Windsor First Aid features re-cert classes for applicants who need to renew expiring standard first aid and CPR cards. This renewal training course is created specifically for individuals that have already previously done a legitimate standard first aid, CPR and AED class and want to renew the certificate. The renewal certificate is of equivalent value as the original certificate and it's also good for 36 months. CPR "C" renewal is included in this class. Training course time, date and location is listed down the page and students can easily finalize the enrollment through our online system. Ahead of registering candidates should make sure that they meet the workplace approved re-cert requirements presented below. Windsor First Aid delivers standard first aid and CPR re-cert programs at the cheapest rates and best locations inside Windsor.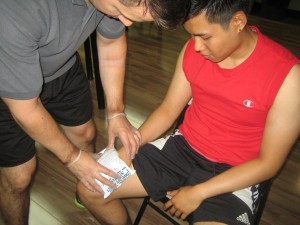 Renewal Criteria
Applicants have to fulfill the following requirements ahead of signing up into a standard first-aid renewal / re-certification program:
Previous certification must be issued by a reputable St Mark James training provider.
Former award needs to have been provided in the past three years. In the event the cert is older than 3 years the individuals will have to re-take the course.
Previous certificate may not be a re-certification award
Lesson Details
The fee for the renewal course is — dollars. This fee comprises of administration costs and taxes. The duration of the class is around 8 hours as required by the workplace approved. The course must be a minimum of 8 hours no matter the candidate background or ability.
St Mark James Accreditation
The moment applicants finish the skills component and exam they'll get a workplace approved standard first aid, CPR and AED card which is good for Three years. This workplace approved training course is offered with CPR level "C" renewal. Be sure to let us know if you need to re-certify another level of CPR and AED in this re-cert class.
Individual / Private Classes
Private standard first aid and CPR renewal programs are offered. Contact us via phone or email to book an individual re-cert class.
Standard 1st aid and CPR re-certification dates, times and locations are posted below. Select the date and time that fits yours schedule and select the "register" button.